Extending Nutrient Uptake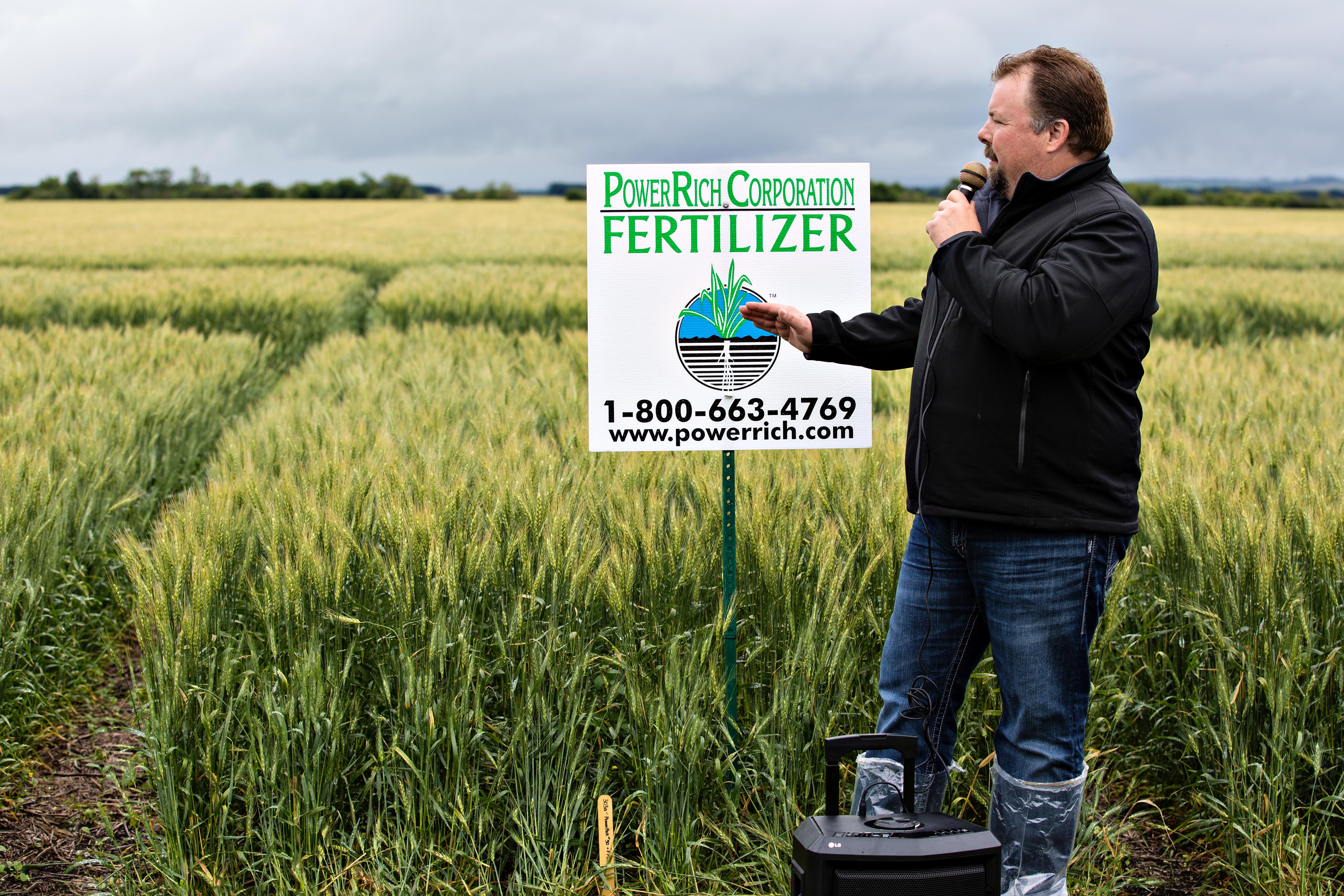 "My Brother and I have gone from trucking and handling five super B's of phos fertilizer down to having two delivered using PowerRich product! We save huge time and fuel. Plus, there's no dust, so it's great to work with."
Owen Grabaczyk,
Farmer, Goven SK
In 1840, J. Von Liebig, a German chemist described as the father of the fertilizer industry, stated that "the rate of growth of a plant, the size to which it grows, and its overall health depend on the amount of the scarcest of the essential nutrients that are available to it."
Since its inception in 1984, prairie-based PowerRich Corp. has embraced Liebig's philosophy and believes it still has a major impact on plant nutrition today. For almost 35 years, farmers using PowerRich product have proven the importance of high grade macro and micronutrients.
As a Canadian pioneer in placing a full spectrum of micronutrients in granular PKS fertilizer and liquid foliars, PowerRich recognizes that a fertilizer program, like a chain, is only as strong as its weakest link. Producers must be aware of micronutrient balance in the soil and its availability to the plant.
Shane Lacusta, agronomist for PowerRich notes that the old practice of growing a crop using just nitrogen and phos and ignoring the other nutrients needed is like a raising a child on sugar. "It can be done, but we know it's not healthy. Plants can look normal, but there can be problems. Stand ability is poor, or yield, weight or protein are not there."
"If your soil is lacking in micros or they're unavailable to the plant because of high PH levels, then the nitrogen and phos will not be fully used and yield is impacted. Wasted inputs mean lost money – and it can be environmentally unfriendly," says Lacusta, "Producers are making greater demands on their land to produce more, increasing the amount of fertilizers they use each year.
But Lacusta notes that yields have levelled off and the return is not there in some cases, and many producers are asking – why?
"Often the limiting factor can be the micros. At PowerRich, we have a different approach to crop nutrition. We believe prevention of nutrient deficiencies is always better than correction after symptoms appear."
Soil is a living organism, and using chemical and heavy salt-based fertilizers erode fertility and harm the vital microbial population needed for healthy soil.
Nutrient imbalances in soil promote weed growth, and unhealthy plants are more susceptible to insects. "In addition to high grade phosphorus, potassium and sulfur, our PowerPak granular starter fertilizer blends include all the micronutrients that are either absent from soil or in a form unavailable to the plant." Says Lacusta.
PowerRich uses granular nutrients that are complexed which work together to prevent them from being tied up in the soil. Because the nutrients are engineered to remain available longer, and extend phos and micro uptake to the plant, producers benefit by using far less pounds per acre of PowerRich fertilizer to correct nutrient deficiencies.
At PowerRich, it's about risk management. Most producers are aware of seed burn but not the harmful effect heavy salt (phos) applications can have on the costly problem and that up to eighty percent of that phos can tie up in the soil within days, making only a fraction available to the plant. PowerRich low salt index granular is seed safe, eliminating the risk of salt seed burn, and our nutrients remain available longer.
"Placing our granular with the seed, then feeding the crop with our full spectrum liquid foliar at chemical times, or on its won, can reduce the risk associated with putting down heavy amounts of product in early spring when the weather for the growing season is unknown and tie up can occur." Says Lacusta, "Spraying crops of foliar feeding through the leaf just makes sense because a plant is up to fourteen times more efficient absorbing nutrients that way and you can correct a crop as you go if needed. It builds stronger healthier plants and there's no risk of tie up in the soil."
Greg Grant, general manager of PowerRich, believes in their balanced approach to crop nutrition, so that a plant has what it needs, when it needs it.
"Our product proves itself, there's no question," Grant said." We have over 30 years of proven results. PowerRich is a custom fertilizer company and we stand behind our high-quality products. That's why we have some customers going back 25 years or more."
Grant noted that producers appreciate the attention to detail.
"We vacuum the product before each load leaves the plant so it's dust free for the farmer to handle."
Grant encourages producers to visit the company website or Facebook and check out the testimonials from their best sales team – their customers.
"Many of our agents started with PowerRich as customers. With way less bulk to handle, producers save time and money, and less salt is better for their land. And, we'll deliver right to the farm."
If financing inputs makes sense, PowerRich's association with FCC and Scotia bank can help. And if producers need storage, they can arrange that too.
"Try it on a quarter or half section first if you're not completely convinced that PowerRich is right for your entire farm. Whatever you're comfortable with. We get it. The product with do the rest!"

PKS GRANULAR + MICROS
Bulk & mini-bulk
Low salt index, Dust free, Less bulk, Custom blends, Seed safe

NPK + Micros
1000L totes
Heavier Grains, Higher Protein, Improved Chemical Efficiency
Boost Vigor Through Stressful Times

NPK + Micros
1000L totes
Premium boost, Stronger podding, Chem compatible, Longer flowering, Maximize phos