Our fertilizer blends include PowerPak Granular Micronutrient Fertilizers, PowerRoot Organic Seed Treatment, and PowerFol & Readyphos Liquid Micronutrient Foliars. You can learn more about each specific blend below:

Starter Fertilizer (Sold in 2000 lb. mini-totes or bulk):
Powerpak is the pre- plant portion of the PowerRich program, and is designed to be placed safely with the seed. It contains a complete spectrum of nutrients including essential micronutrients PowerPak is available in standard house blends and custom blends, specifically designed for your soil and crop requirements.
• 60% less bulk • Half the salts • More phosphorous available • Custom blends for all soils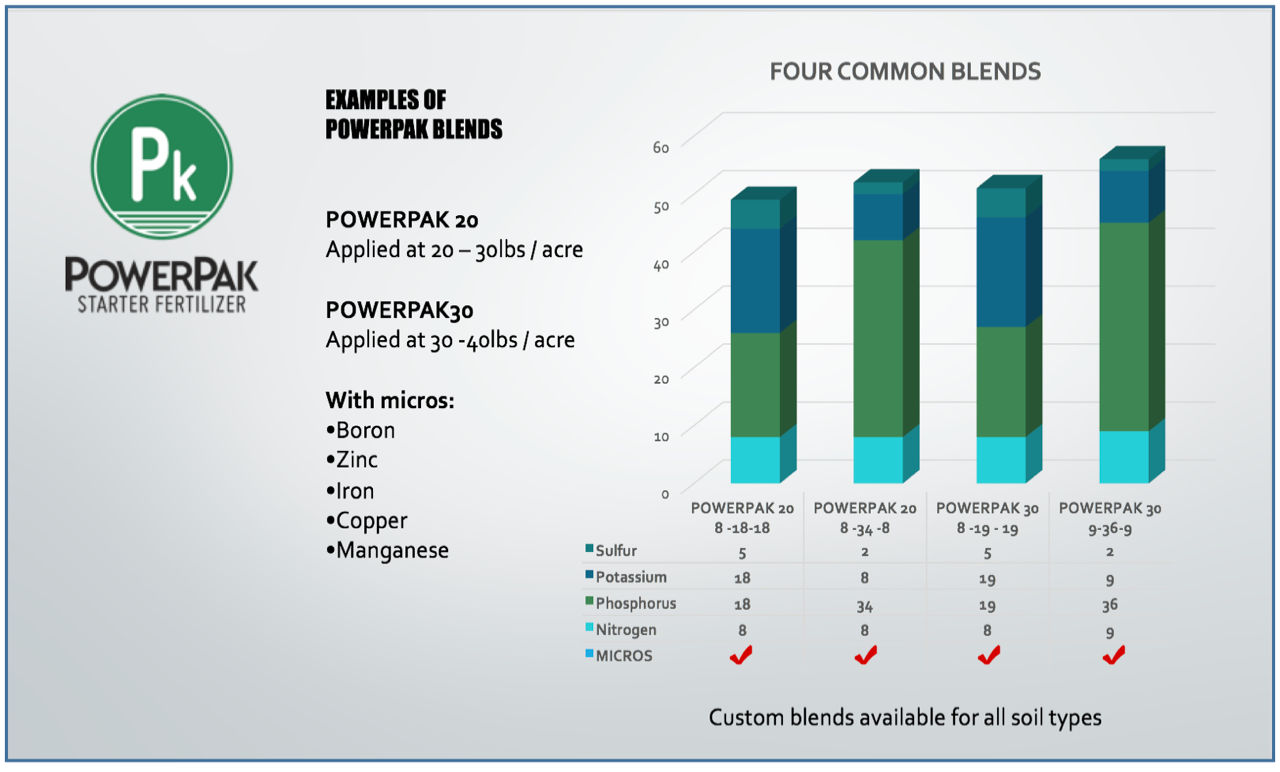 Standard House Blends:
These are our most popular PowerPak20 ( 20-30lbs/acre) and PowerPak30 (30-40lbs/acre) blends.
8-18-18-5 20
8-34-8-2 20
8-19-19-5 30
9-36-9-2 30
Non Chloride Blends:
All PowerRich granular blends have a very low salt index, but our Non Chloride blends reduce our salt index even further and are designed to work well in soils with a PH of 8 or higher, minimizing the risk of chlorine toxicity in a plant, which can render it unable to fully absorb nutrients properly, affecting growth and development.

Seed Treatment (Sold in 10L Jugs):
For Centuries, farmers have known the value of seaweed. PowerRoot is an organic kelp based seed treatment compatible with seed fungicides and herbicides that not only feeds the plant, but also stimulates life in the rhizosphere where precious nutrients are utilized and stored
• Hastened seed germination • Improved propagation of seedlings • Greater ability to withstand stress

(1000L Totes):
Sold as a full spectrum nutrient foliar that is specifically formulated to be applied through spray top dressing, with or without chemical. Designed to be an economical option PowerFol provides the NPK plus micronutrients that are required to give crops an extra boost – resulting in higher yields, heavier grains and higher protein
• NPK + Full spectrum of micronutrients

(Sold in 1000L Totes):
Our innovative technology allows Readyphos – a premium liquid foliar – to maximize the amount of phosphorous made available to the plant, which helps nitrogen intake and also packs a full spectrum of micronutrients
• Stronger podding and longer flowering • Healthier plants with higher protein